I wrote about my first Whole30 experience about 9 months ago. Check it out here — how it (no exaggeration) transformed my life by changing my relationship with food and making me feel GREAT. Oh, and I lost 20lbs and a bunch of bloating and inches during that first Whole30. Since then, I have eaten mostly-paleo and continued to lose another 15 lbs, by consciously choosing what was worth it and what wasn't.
I've felt great, which made me want to keep eating that way. And then came the holidays. It started with Thanksgiving and these [horribly unhealthy] Bisquick sausage/cheese balls I tortured myself by making. Talk about "food with no brakes" and I mindlessly ate them. That mindset spilled over into December, and before I knew it, my skin was broken out, I wasn't sleeping well, I was moody & unmotivated, and I was super bloated. I gained 3 lbs (admittedly, it could have been 0… I weighed myself at night, fully-clothed, wearing a big sweatshirt), but felt at least 10 lbs heavier. I knew it was time to "reset" and do another Whole30, starting January 1.
Round two was SO much easier. I'm sure it was because basically every single "non-compliant" food I ate since my first Whole30 I consciously made a choice… "is this worth it?"… Is it worth a pimple or waking up at 3am or moodiness tomorrow? And sometimes it was. But when starting Round 2, it was easy because I no longer had to ask that question before choosing what to eat. Compliant foods don't make me feel bad (they do the opposite, and make me feel GREAT). It was also easier because I already had favorites from Round 1, AND I had a support group of other Whole30ers that shared their favorites (and they were AWESOME).
On Day 31 I weighed and measured myself and I had lost just under 9 lbs and a bunch more inches, and (as expected), I felt great! My skin had cleared back up, I was sleeping great, and I was NEVER hungry. I took more "after" photos, and while I'm not ready to share them with the world (really, it's the "before" pics I have the problem with), there are significant changes going on. Plus today I wore boots I bought in November that were so tight on my calves I couldn't get them on. And it was easy! Seriously!
People keep telling me I have a lot of willpower and they'd "never be able to do a Whole30". I totally disagree. They're overthinking it!! Yes, it requires planning. Yes, you have to read ingredient labels. But you get the hang of it fast and wonder why you never did it before! It's only 30 days. It's not forever (though, what you learn during those 30 days will stick with you forever). I think most people are scared because they think they'll be deprived. Let me tell you: I ate the best food of my life in January, 2016. No rice cakes or having to fill up on mounds of broccoli: real, yummy deliciousness (including sensible amounts of broccoli, here and there). But lots of green beans with ghee and garlic, and I probably overdid it on the mashed cauliflower (also with ghee).
So for anyone who thinks you have to deprive yourself, count points, or eat cardboard to lose weight, here's what I ate.
Breakfast:
Most days I had eggs on top of some leftovers from the night before. I am a firm believer that everything is better with a fried egg on top. I fry my eggs in ghee or avocado oil.
A friend suggested sweet potato hash and while I wasn't previously a huge fan of sweet potatoes except under certain circumstances ("circumstances" being butter, brown sugar, and marshmallows), this BLEW ME AWAY. I'd fry up some ground pork (adding sage, fennel, s&p), then set it aside and use the pork grease to saute small cubes of sweet potato, red pepper, onion, and garlic. After the potatoes were cooked, I'd add back in the ground pork and season with s&p. O.M.G.  Trust me on this one: you need to try it. So, I started making a big batch of this on Sundays to eat topped with eggs for breakfast (and sometimes in-a-pinch dinners) for the week.
This slideshow requires JavaScript.
I had tried some Nom Nom Paleo recipes in the past year (Cracklin' Chicken is on the menu at least once a month in our house), but ventured out and tried more including this Thai Omelet which is AWESOME! I used Tobasco and mayo to make a little sauce to top it with and it has quickly become a favorite breakfast when I don't have anything easy to eat with my eggs.
Lunch:
Lunches are probably my most boring meals because I'm a huge fan of the salad bar at work. Most days I brought previously-cooked chicken/leftovers plus a couple hard-boiled eggs and made a salad. Topped with balsamic and EVOO. Pretty simple, but yummy all the same.
To make my lunches less boring, I'd like to tell you about the BEST DRESSING EVER. Yes, I said it. EVER. And it's so simple. Balsamic + Olive Oil + Gulden's Spicy Brown mustard. I use about half and half oil and vinegar (the better quality the vinegar, the less oil you need) and a big squirt of mustard, and shake it up. That's it: easy! And seriously delicious.
On weekends, I usually made some tuna salad (extra celery and onions with fresh dill and lemon juice is my favorite) or ate leftovers as well. I also got some coconut turmeric wraps and put tuna salad on those (more below on where I found these wraps). Or other random salads:
Dinners:
I bought some "convenience" foods, like this Trader Joe's pre-cooked roast, so I could make that on a night when I was in a hurry or didn't feel like cooking. Turns out we ended up eating it weeks later (only because it was going to expire) because I actually looked forward to cooking dinner every night!
And speaking of convenience foods, I also made Applegate Farms hotdogs with coleslaw one night — super easy!
Some of my other dinner favorites:
Ribs with an unsweetened applesauce BBQ sauce. I mixed Penzeys BBQ seasoning with apple sauce and coconut aminos. My green beans are topped with that amazing salad dressing from above.
Chicken fingers from Mediterranean Paleo cookbook — I "breaded" with a blend of coconut and almond flour and fried in ghee. I made "dump ranch" and more garlic/onion/ghee green beans. Yummy. My 4 year old said she wanted to eat this every day.
Kalua Pork — another Nom Nom Paleo favorite, and easy: it's made in the slow cooker!
Trader Joe's Frozen Turkey Burger was super tasty and delicious, but took longer to cook than I hoped (thought I was buying a "convenience food").
It's hard to see but this is a grilled Trader Joe's Frozen burgers, on a salad with mayo and an egg on top. Like I said: everything's better with a fried egg on it. Rich and incredible and tastes too good to be good for you.
Spinach Muffins from Well Fed cookbook. I liked these, even though they were super spinach-y being they're made from frozen spinach (I prefer fresh). I'm going to try it again– or a variation of them– with fresh next time.
Favorite meal from Round 2 (drum roll, please!):
To elaborate on my love for Nom Nom Paleo, though, I also have to share my new favorite from the entire month. Damn Fine Chicken. IT'S SO GOOD. I have started trying this marinade on everything (but the original: chicken legs are still my favorite). Also, I believe we are BFFs because Michelle Tam seems to love Penzey's Spices as much as I do, since she uses them in almost every recipe.
Here's my Damn Fine Chicken and my Penzey's-filled spice cabinet:
Lastly, let's talk about Thrive Market (<<— shameless plug… this is my referral link). Super yummy foods at a great discount, delivered to your door. I finally tried the Primal Kitchen Mayo everyone in my group had been talking about and I was shocked when I loved it more than homemade, and even more crazy — I love it more than Duke's Southern Style Mayo. Plus, Thrive has it cheaper than Amazon. The coconut aminos also cost less than I can get locally, as do the Paleo Wraps. It's also nice to get the BEST ghee, Tin Star, delivered to our house (that I can't even get locally). If you want to sign up and get a discount off your first order, you can use my referral link here.
Some of my first Thrive Market haul:
In summary, if you think Whole30 is eating boring foods or just a bunch of caveman meat or being deprived, I promise that's not the case.
What's Next? AltShift!
I plan to do another Whole30 again in 2016 (maybe 2!), but for February I'm experimenting with something called AltShift. The creators of Whole30 are very clear that it's a thirty day program… it's not a forever thing. So I'm looking for something more long-term to try.
I'm doing AltShift mostly-paleo (adding in rice/beans/hard cheeses, assuming they don't make me feel yucky), since paleo suits me & makes me feel incredible & far-from-deprived, and basically just treating it as an experiment.
I purchased the e-book, and agree with basically everything the author, Jason Seib, says (a lot is much-needed review from It Starts with Food, the book I credit with kicking off my mind/body transformation). But where the books differ is how Jason addresses fat loss.
Jason is clear that EVERY DIET WILL WORK:
Your friend drinks shakes and smoothies and loses weight (how I feel about this here: Ask the Dietitian: What's the Deal with Shakeology?). Your other friend eats only cabbage and oatmeal, and yes their diet will "work", too. Your friend Oprah eats (wait for it…) BREAD (GASP!) and it works for her, too (more below on how this makes me sad)! But did you know that 80+% of Weight Watchers customers are REPEAT customers?? It's not just WW either — repeat customers are how most diet companies stay in business! No wonder Oprah jumped in on this lucrative business. NONE of these are long-term solutions to REAL FAT LOSS. No offense to anyone doing these diets — obviously they "work", but chances are you'll be back in the program again after yo-yo'ing.
The AltShift approach is not hard, it seems like something I could EASILY follow for the rest of my life, I'll still get to eat mostly-paleo, and I'm excited to see what happens. Like any "diet", I'm sure it will "work", but I'm most concerned about eating filling, whole foods, staying full, feeling happy/motivated, not being bloated, not feeling deprived, and losing FAT/inches (not necessarily pounds and definitely not muscle). I'm currently on Day 3 of "3s" and very conscious of how it's making me feel (so far, so GREAT — last night, according to my fitbit, I had the BEST night of sleep I've had since getting my fitbit in July!). I also like the focus on sleep (SO IMPORTANT), walking (need to get my steps back up!!), and meditation (not just for hippies!). So more to come on how this experiment turns out.
To be continued
Oprah
Lastly, as a FOREVER fan of Oprah (I cannot stress how much I love this woman), this is why I'm so disappointed with the direction she has gone with her latest chapter: An Open Letter to Oprah.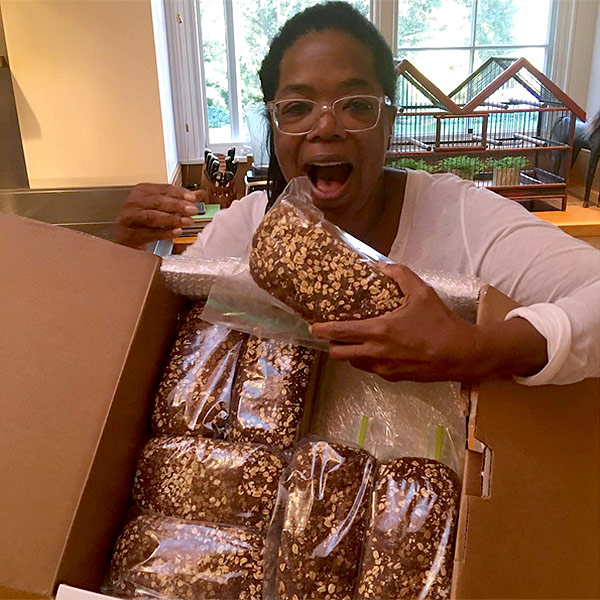 "Your endorsement of a calorie-cutting, portion-limiting program thereby reinforces the false notion that people are overweight and that it's their own fault."
Exactly. And I mentioned in my first Whole30 post how I feel about WW (as a former, three-or-four-time repeat customer myself). Stop the madness!